Discover more from Decensored News
History, mass media, culture, econ, science, tech, health, & human freedom. Examining power structures and propaganda with a focus on primary source research.
"X" Suppresses American Journalist in Palestine as Musk Announces ADL-Approved Censorship Regime
(A version of this article was originally posted as a thread on Twitter/X.)
Journalist Jeremy Loffredo is currently under a form of "search ban" on X, the social media platform formerly known as Twitter, Decensored News confirmed early Saturday morning.
Loffredo has written for The Grayzone, Children's Health Defense, and others. This year, he's done on-location reporting from East Palestine, Ohio after the Norfolk Southern train derailment, from Maui after deadly fires engulfed parts of the island, and, just last month, from New York City, where he filmed a viral video of pro-Israel demonstrators explicitly calling for genocide and ethnic cleansing in Gaza.
He's currently on the ground in Palestine interviewing people in the West Bank who are (in his words) "being terrorized by" the IDF and documenting "the domestic crackdown against Israeli Jews who oppose the ongoing slaughter in Gaza."
When searching his name on X from the Decensored News (@decensorednews) account – which follows Loffredo, and vice versa – his @loffredojeremy account comes up (1st pic, black background). However, it does NOT come up when doing the same search from an account that does not follow him (2nd pic, white background):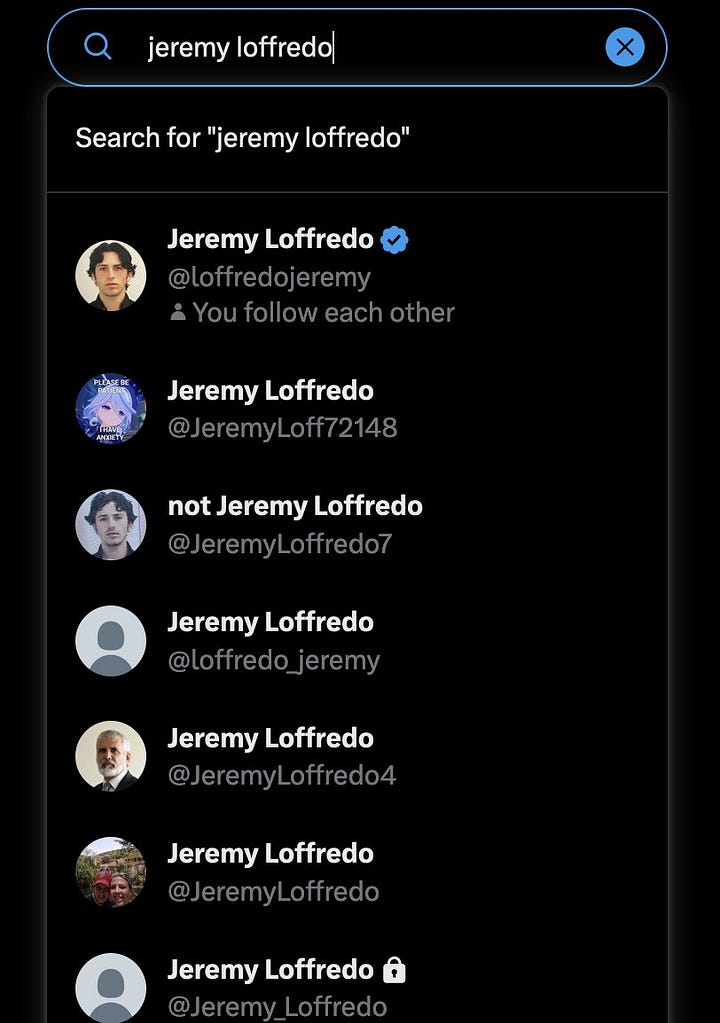 Not only does the search ban appear to hide the account itself from many users who don't follow him – it also affects his actual posts.
Here's a post Loffredo made ten days ago — exclusive on the ground reporting from the West Bank:
Just like the previous example, Loffredo's post shows up when searching from the Decensored News account (1st pic, black background), but the same search yields no results when conducted by a user who doesn't follow Jeremy (2nd pic, white background):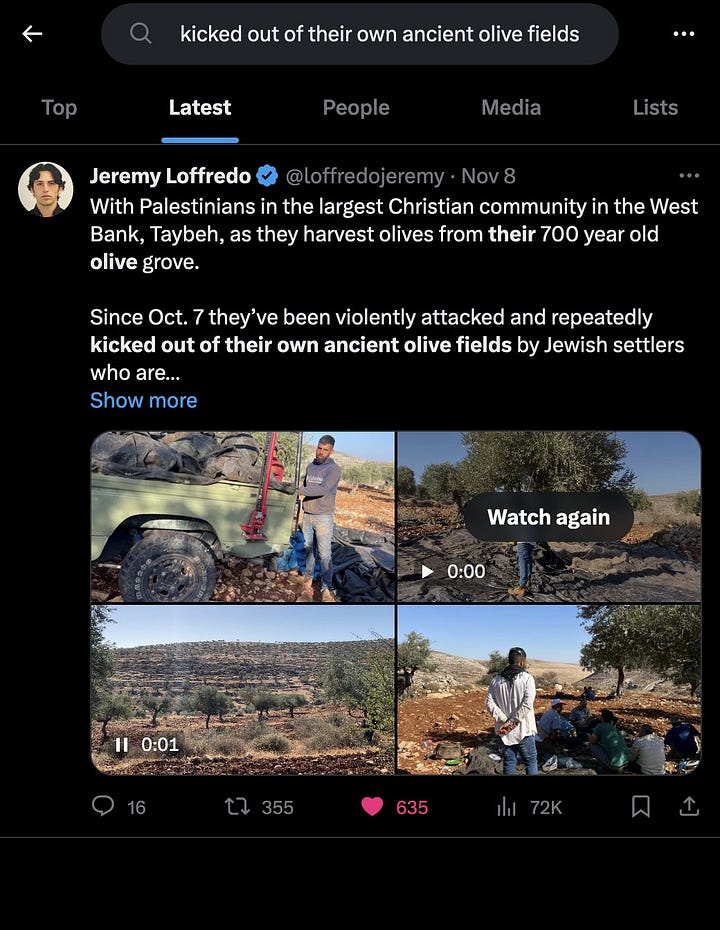 Interestingly, it does show up in the results of a third account that doesn't follow Loffredo, but does follow a number of accounts that he follows, and who follow him.
Loffredo is an American who is normally based in New York. He flew to Palestine/Jerusalem specifically to cover these things, despite the high level of danger that journalists there — and everyone in that area — have been facing in recent weeks.
According to the Committee to Protect Journalists, at least FOURTY-TWO (42) journalists have died/been killed in Palestine in recent weeks, with over two dozen more reportedly injured, missing, or arrested.
The organization has also documented "multiple assaults, threats, cyberattacks, censorship, and killings of family members" of journalists.
While many of the slain journalists were reporting from Gaza, the West Bank is far from a safe place to be right now, let alone to be publicly documenting Israel's atrocities.
Here's the IDF – after an Israeli raid on the West Bank's Nur Shams refugee camp a few weeks ago – murdering a 15-year-old, then shooting his father:
Per the AP, 205+ people have been killed in the West Bank since Oct 7, "the deadliest period in the territory since the second Palestinian uprising in the early 2000s."
"Airstrikes, once a rare attack mode in the West Bank, have become increasingly common."
Journalists like Jeremy Loffredo — not to mention many others on the ground like Motaz Azaiza — are the rest of the world's eyes and ears in Palestine.
The stories and images we are receiving from them don't come out of nowhere; they are produced at great personal risk to the people who bring them to us.
They need and deserve our support.
What they DON'T need or deserve is censorship, including search bans, shadowbans, and whatever else is happening on "X."
Elon Musk is now saying that he is going to suspend people who call for "decolonization" or use the phrase "from the river to the sea" – a move cheered by the ADL's Jonathan Greenblatt:
Meanwhile, members of Netanyahu's Likud party in Israel can apparently overtly and explicitly advocate for war crimes and mass-murder without facing such punishment.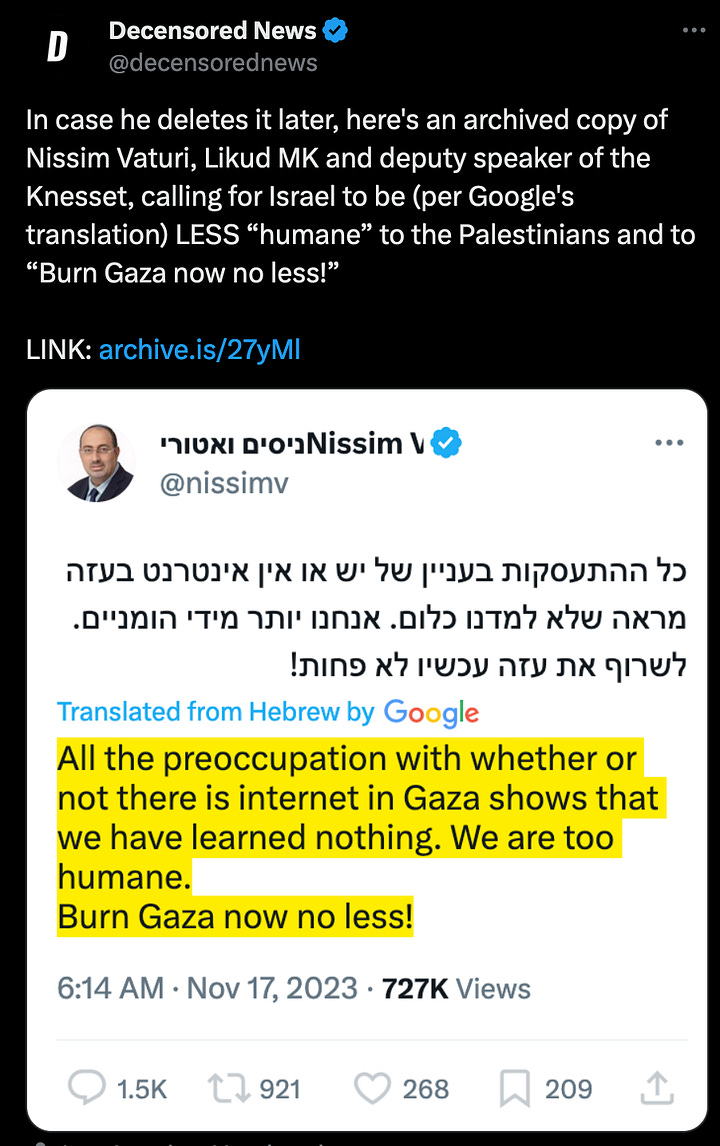 A couple weeks ago, a video exposé by Decensored News was suppressed by "X" — seemingly because the State Dept's spokesperson was tagged in the post.
In addition to shadow-banning & search-banning journalists, is X "protecting" the accounts of Israel's accomplices in the US government?
Decensored News has faced multiple other forms of suppression on Twitter/X this year (on and off), including the same type of search ban as Jeremy:
Censoring for foreign governments isn't a "foreign" concept to Musk and X either. From earlier this year:
The CEO of Gab — a much more pro-free speech platform — rebutted some of Musk's claims at the time about why Twitter supposedly had to censor for the Turkish government, but his posts were (you guessed it) search-banned:
Musk said seven months ago that he would "open-source" the list of words that will get you deboosted and/or demonetized, but he never did.
"If you wanna trust something you've gotta know how it works," he said.
X is untrustworthy by his own definition.
From April:
Jeremy Loffredo on his search ban, in his own words:
From September:
To preemptively respond to those who will read this and say, "I don't follow Jeremy and he's coming up in search just fine for me":
These types of shadow & search bans don't always manifest for every user, and they often come and go.
From June:
For those who use X: Please follow Decensored News – and every other news outlet & journalist you value – on OTHER platforms; not just there.
We never know when the next shadowbanning is coming, and by definition we have a hard time telling you about it when it does.
Linktree: https://linktr.ee/decensorednews
---
Thanks for reading. Besides following Decensored News on other platforms as noted above, and bookmarking the website, please subscribe here on Substack for free to receive future updates: